San Qing Gong Taoist Cultural Centre (Singapore)
San Qing Gong, the first orthodox taoist temple in Singapore, was founded in March 2003.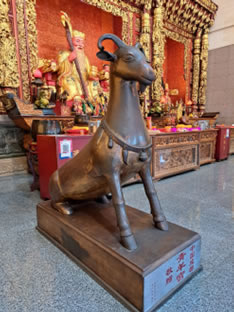 The pair of Bronze Goat was placed at San Qing Gong in 2006. It was religiously launched on 12 December 2006 by the masters of Sichuan Taoist Federation. The 2 goats, one in single horn, one in 2 horns are made of bronze. The goat with single horn is impersonated from the 12 animals in the Chinese Zodiac. It has the rat's ear, ox's nose, tiger's claws, rabbit's back, dragon's horn, snake's tail, horse's mouth, goats beard, monkey's neck, rooster's eyes, dog's stomach and pig's ass. This pair of goats is well moulded and is a significant blessed ornament at San Qing Gong. It also encompasses cultural touch and is an added attraction at San Qing Gong. It's known that the touch on the goat's stomach and head is able to relieve a sufferer's stomach ache and headache. It is because of this belief that the goats have been touched so frequently that they shine sparklingly in the temple.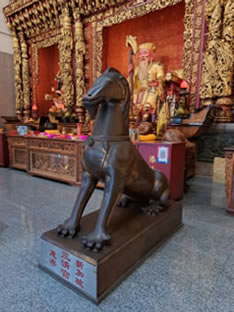 Be an Online Member of San Qing Gong Now